Over the past couple of years I've developed a new guilty pleasure…a very late 20's/early 30's guilty pleasure. I love looking at real estate online. My favorite sites are
Red Fin
, and
TheMLS.com
(which is local to southern California). The thing is, we're not actually looking to buy, but I tell myself it's good to know what's out there for when the time comes.
Last week I found the house I want. I wouldn't go so far as to call it my dream house. Let's call it my dream-for-now house. It needs some work for sure, but it's in a great neighborhood, it's got the right stats, the price is like $100,000 less than the tear-downs in the area, and it's completely livable if we closed today and wanted to move right in. Not sure why it's so cheap, but it keeps the dream alive!
So, we went to the open house on Sunday. We were curious, what can I say? Wow – what a crowd. Apparently I'm not the only one scoping out the local housing market. We arrived at the house around 3pm,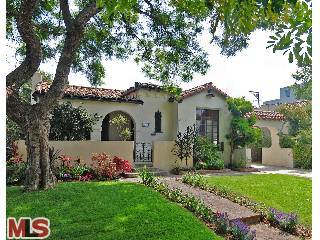 and there must've been at least 30 other people there too. And they were just like us! Some a little older, some with more than one kid, but all were pretty much young families imagining life in a little Spanish style starter home. We perused the decent sized three bedrooms, the dining area with built-ins, the living room with fireplace, the study off the living room, the kitchen, the LAUNDRY room!, the yard with space for a swing set, the 3-car-garage we'd turn into a guest house (permitted of course!), and we fell in love.
On our way out, I turned the corner down the main hall and nearly ran into another mom with a little girl on her hip too. We giggled at our matching everything, and she asked, "Do you guys want to split it? Maybe then it'd be in our price range?!" My thoughts exactly. Ha!
her twist
…
Even if they are still almost a million bucks, at least the houses are getting a little cheaper in LA. There's hope for us…right? I know our time will come, and we'll find our actual dream-forever-house, but until we save enough, and these houses are actually affordable for normal people, I'll continue my online fantasy!